Hearing Voices from NPR®:
028 Vox Pop— For 9/11
Host— Jay Allison of Transom
Airdates— 9/10/2008 – 9/17/2008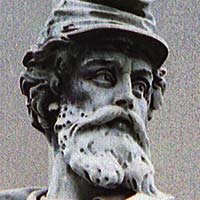 The stars of this show are Americans, expressing their opinions, participating in our democratic discussion.
We roam the streets of New York City in the hours during and weeks after 9/11, hitting "Golf Balls" and spending our "Last Night in New York."
We travel 8000 miles of America gathering "Vox Pop."
And "Amber" provides an illegal alien p.o.v. via a radio call-in line.
Works from Transom.org by producers Scott Carrier, Christopher Lydon, Matt Lieber, and Australian Wednesday Kennedy.
Vox Pop (53:00 mp3):

Music: Bela Fleck and the Flecktones- "Stomping Grounds" Live Art, Keith Jarrett- "Americana" Dark Intervals, and Ry Cooder- "Dark End of the Street" Boomer's Story.