Hearing Voices from NPR®:
038 Let's Eat— For Thanksgiving
Host— Larry Massett of Hearing Voices
Airdates— 11/19/2008 – 11/26/2008
Let's Eat (53:00 mp3):

A Thanksgiving audio feast. We binge on fattening stories, then purge with a documentary on refusing food:
Joe Frank describes a typically twisted family "Thanksgiving Dinner" (from his program "Pilgrim").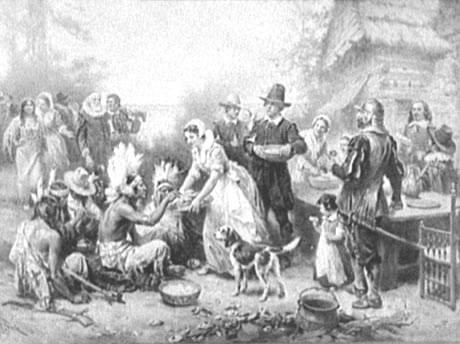 detail of painting "First Thanksgiving" by Jean Louis Gerome Ferris (1863-1930)
courtesy Library of Congress, Prints and Photographs Division, Detroit Publishing Company Collection
Scott Carrier tours a "Turkey Ranch," following the gobbler from farmyard to frozen food.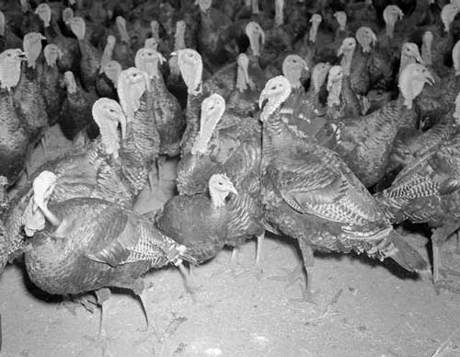 photo by Harry M. Rhoads (1880-1975)
courtesy Western History/Genealogy Department, Denver Public Library
Dean Olscher of The Next Big Thing goes "Chowhounding in St. Paul," searching for Hmong food, with cellphone assistance from the Chowhound, Jim Leff.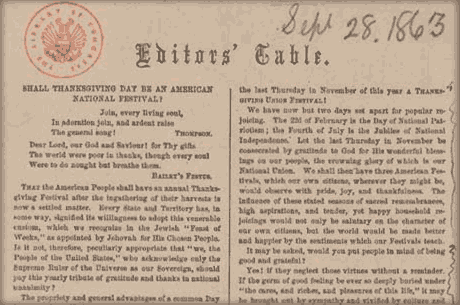 Sarah J. Hale, Editor of Godey's Lady's Book, led a campaign through
the 1850s-1860s to establish Thanksgiving Day as a national holiday
And Annie Cheney offers a touching document of her eating disorder, "Concerning Breakfast" from Jay Allison's Life Stories series.
Library of Congress- Thanksgiving in American Memory
US Census Bureau- Thanksgiving Day, 2007