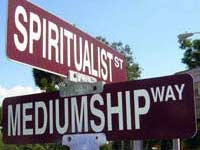 Hearing Voices from NPR®
040 Spirit World: Angels on the Line
Host: Larry Massett of Hearing Voices
Airs week of: 2010-09-15 (Originally: 2008-12-03)
"Spirit World" (52:00 mp3):

Paranormal sonic-expeditions:
A preacher/prank-caller/audio-artist conjures up a con.
Carmen samples some voodoo Santera, soaks in a spirit bath; she prays for sex, adventure, and central heat.
Ceil visits the small Florida town known as "The Psychic Center of the World."
Our host hangs out in the new age atmosphere of the California city that sits below the spiritual Mecca of Mount Shasta (4,317 m. / 14,162 ft.).
Photo of the Cassedega intersection signs © Rachael Anne Ryals.