Tikrit, Iraq
Woke up in a palace today, stared-up at huge golden chandeliers dangling from the ornate ceiling of a former palace. Mahmoon Palace or "Birthday" palace. Where Saddam's birthday was celebrated. Less glamorous at eye-level: I lay on a dusty cot, and my neighbor in a public storage-like plywood cubicles was playing Alvin and the chipmunks Christmas. They had little warning that a reporter was coming, they were told I wanted to cover Christmas stories, I came to the Middle East to avoid it.
The famous balcony, where Saddam fired off his famous gun.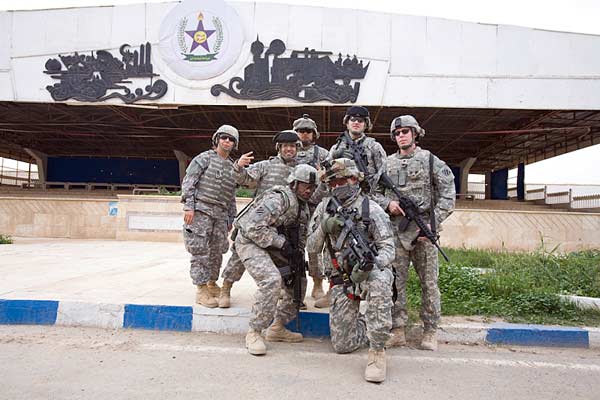 Troops posing outside the Palace bandstand
It's kind of sad the disrepair here.
Large plasma TV, Xbox, PS2's, internet terminals. Soldiers play war games, up to 4 at a time, executing their training in play. Boredom is the greatest threat here, complacency is its danger. They are very good warriors, I rarely see their screens turn red with electronic blood.
"People of Wal-Mart" website went viral in the banquet room, for that's what this huge room was, ultimate of class and luxury, marble marble everywhere. We gathered around to look at the website: "Aw, no way!"s and "Shit, is that a dude? Fuck that!"s and "Hell no!"s, everywhere. One of those came from my lips.
Nice soldier, Joe, likes metal, from California as well. He tells others "man, we grew-up an hour from each other" but light-years. He turned 21 the day before, old enough at last but not a drop to drink. I asked him why he joined: "The health benefits, my wife is on expensive anti-seizure meds."  He loves to talk about weapons–a grenade launcher, I forget the caliber, is his favorite. Weapons weapons everywhere. Not guns, weapons. He pretended to defend me as I got a haircut. Has a 6mo old daughter, took her to Disneyland recently. Old enough.
It takes a while for soldiers to open-up to reporters. I know what they've been told about us, but I'm not supposed to know, so I won't say. I needed an opening. A horror movie was thrown on late last night, a break from the gory video games to just gore. The man who I call dad in my life, his name came up, director of photography "hey, that's my dad" I said. One mouth fell open. I said I too used to work on horror movies, more looks my way. I was in at last.
It's "hum-vee" not "hummer". The former is driven, the latter drives.
Comforts of home. It's not REAL mountain-dew, it's called "squiggly-dew" because it's in Arabic and, the greatest complaint: it uses real sugar cane instead of high-fructose corn syrup. The Sergeant showed me the stash of a yummy caned coffee drink for us old-timers. Pallets of bottled water water everywhere. Tap water comes from the Tigris, never open your mouth while showering, don't taste history.
Text, audio, images © 2009 Jake Warga.