2011-12-23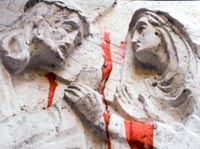 Hearing Voices from NPR®
129 HanukkahChristmashup: Season's Greets and Beats
Host: Barrett Golding of Hearing Voices
Airs week of: 2011-12-21
"HanukkahChristmashup" (52:00 mp3):

Mixes and mashes and seasonal samples, and song stories:
"Christmas Eve In Afghanistan, Again" (2010 / 3:30)
Quil Lawrence
NPR talks to troops in a U.S. military hospital at Bagram Air Base, outside of Kabul. Quil Lawrence interviewed Sergeant Wallace Trahan, Sergeant Aaron Kelly, Sergeant Zachary Scoskie, and Colonel Diane Huey. Mix: Jim Wildman. Music: W.G. Snuffy Walden "The First Noel" Windham Hill Holiday Guitar Collection
.
"Please Be Patient" (2009 / 2:23)
Feist
"Christmas Greeting From Space" (1968 )
Astronaut Frank Borman
From the Apollo 8 capsule, December 24, 1968.