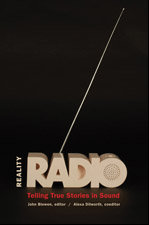 A new new book out, Reality Radio: Telling True Stories in Sound:
Reality Radio celebrates today's best audio documentary work by bringing together some of the most influential and innovative practitioners.

Contributors [include]: Jay Allison, damali ayo, Emily Botein, Chris Brookes, Scott Carrier, Katie Davis, Ira Glass, The Kitchen Sisters, Maria Martin, Karen Michel, Rick Moody, Joe Richman, Dmae Roberts, Stephen Smith, Sandy Tolan.
Publisher UNC Press offers this Q & A w/ the book's editor John Biewen.