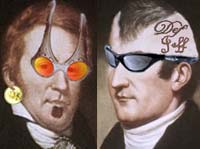 Hearing Voices from NPR®
092 Lewis & Clark Trail I: The Missouri River
Host: Barrett Golding of Hearing Voices
Airs week of: 2010-06-16
"Lewis & Clark Trail I" (52:00 mp3):

Biking & Mic-ing the Modern Lewis & Clark Trail; part one of two, up the Missouri River into the Rocky Mountains. Barrett Golding and Josef Verbanac, a radio producer and an English professor, a Jew and a Souix, bicycle from Missouri to Montana, enduring floods, war, worms, mud, and myriad Lewis & Clark festivals:
Prep: Cross-country preparations, then and now, from Penis syringes and Indian presents, to AAA and GPS. "Your observations are to be taken with great pains and accuracy, for others as well as yourself" –Jefferson's Instructions to Lewis, 1803.
Flood: Missouri floodwaterss, a frog symphony, a million worms, bowfishing a beanfield, and in Marthasville MI little league it's Lemke Trenching and Excavating vs. Miller Funeral Homes. Don Sherman, a retired Chrysler worker, who now volunteers his time taking care of the city park in the flood-prone landmark rural town — which, in Lewis & Clark's time, was the last outpost of white society. And we go bow-fishing for in a bean field.
Rendezvous: Biking and mic-ing the Missouri River. Captain Lewis' Aria, surveyor-stalking cougars, black powder bursts, cave wall Manitous, and Edens lost. Explorers express emotions and the Expedition breaks into song, in "Corps of Discovery: An Opera in Three Acts" produced by music professor Eric Dillner and the University of Missouri's Show-Me Opera. Geographer James Harlan maps the Two Missouris, the Missouri Territory now and two centuries ago, using an 1815 Land Office survey and Clark's field-notes. James Denny, Historic Interpreter, for Missouri's Department of Natural Resources, points out where pictografs on a cliff were a landmark of the Lower Missouri, until the railroad blew 'em up; we tour through the tunnel of the ex-Manitous.
Wars: No Home on the Range, Chief Joseph's Race Track, and Brothers Buddha and Brahma. Farrell Adkins, Campground Host at Arrow Rock MO sings the little known second verse of "Home on the Range." Matt Nowak, Natural Resources Director at Fort Leavenworth Army Base KA describes this places part in the death and desctrution of the Nez Perce people.
Indian County: Daily pow-wows, casino economies, and Lewis' birthday gloom. Neil Phillips, Penobscot tribal member and former canoe racer paddles from Maine to Montana, experiencing life on the river, a little-seen view of America. Joe Verbancec Sr. tours us thru the Standing Rock reservation.
The Strenuous Life: Bruce Kaye, Chief Naturalist at Theodore Roosevelt National Park recounts Teddy Roosevelt's time in North Dakota. His ideas about conservation developed in the badlands, then get expressed in the acts of the President of the United States and the start of the National Park system.
Re-enaction: At Coal Banks Landing, on Missouri River "Breaks" in Montana, we encounters the re-reactors, traveling up-river using the boats, clothes, food, guns and knifes of the Lewis & Clark era.
Camp: Lewis and Clark made 600 campsites on their expedition from St. Louis to the Pacific and back. So far, the exact location of only one has been identified. For 13 years, archaeologist Ken Karsmizki has been digging at Lower Portage camp of the Great Falls, on the Missouri River in Central Montana, and finding fire pits, butchered bones, wooden stakes and other artifacts, all dating to Lewis and Clark's time.
Orchestration: "From the Journals of Lewis and Clark" is a symphonic work for orchestra and choir based on the expedition's journals. Montana's Great Falls Symphony commissioned University of Idaho music professor Daniel Bukvich as the composer, whose job was to make Art imitate History.
Listen to Part Two. And read more on the Lewis & Clark Trail and our bike trip.