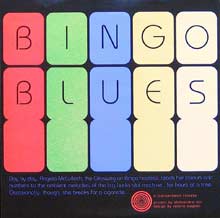 Yet another WFMU find; blogger Tony Coulter describes this record as:
A single offering up audio-verite recordings made in a Scottish bingo parlor. Despite being completely unmanipulated, the A-side, which you'll find below, serves quite well as sound art, no?
From the liner notes:
Day by day, Angela McColloch, the Glaswedian Bingo hostess, reads her colours and numbers to the ambient melodies of the big buck$ slot machines… for hours at a time.
"Bingo Blues" Aleksandra Mir (3:44 mp3):