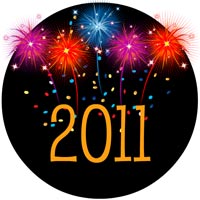 Hearing Voices from NPR®
130 Shortcuts 2011: A Year in An Hour
Host: Peter Bochan of WPKN-FM
Airs week of: 2012-01-11
"Shortcuts 2011" (52:00 mp3):

A retrospective of the past twelve months featuring Queen Elizabeth, Occupy Wall Street, The Arab Spring, the death of Osama Bin-Laden, the extreme weather conditions that caused nuclear accidents in Japan, flooding in the North East and fires across Texas, politicians like Rick Perry, Michelle Bachman, Ron Paul and Herman Cain making us proud, Michael Moore, Guido Sarducci, Charlie Sheen, Ali G, Newt Gingrich with music from PJ Harvey, Ry Cooder, Fleet Foxes, Bright Eyes, The Coasters, Bruce Springsteen, Gil Scott-Heron, Ashford & Simpson, John Barry, Tosca, Maceo Plex, Mickie & Sylvia, The Drifters, Amy Winehouse, Marvin Gaye & Tammi Terrell and many others.
Tributes to Steve Jobs, Jerry Leiber, Nick Ashford, Andy Rooney, Joe Frasier, Gil Scott Heron, Hubert Sumlin, Wild Man Fischer, Amy Winehouse, Clarence Clemons, Harry Morgan, Sylvia Robinson, Carl Gardner, Wildman Fischer, Phoebe Snow, Jack Lalane, and others
Produced by Peter Bochan, General Manager of WPKN-Bridgeport CT, announcer WBAI-NYC NY, and mixmaster at All Mixed Up Productions. His Shortcuts and other mixes are at PRX.
Some of the music in the hour:
"The Glorious Land" PJ Harvey – Let England Shake
"No Banker Left Behind" Ry Cooder – Pull Up Some dust and Sit Down
"Firewall" Bright Eyes – Firewall
"My First" Tosca – No Hassle
"Helplessness Blues" Fleet Foxes – Helplessness Blues
"Poetry Man" Phoebe Snow (Phoebe Ann Laub, July 17, 1950 – April 26, 2011) – Phoebe Snow
"Jungleland (live)" Bruce Springsteen- Born to Run
(Clarence Anicholas Clemons, Jr., January 11, 1942 – June 18, 2011)
"You Know I'm No Good (live)" Amy Winehouse (14 September 1983 – 23 July 2011)
"Love is Strange" Mickey & Sylvia (Sylvia Robinson, March 6, 1936 – September 29, 2011)
"I'm New Here" Gil Scott-Heron (April 1, 1949 – May 27, 2011) – I'm New Here
Songs by Jerry Leiber (April 25, 1933 – August 22, 2011) and Mike Stoller:
"Three Cool Cats" The Coasters
"Kansas City" Wilbert Harrison
"Smokey Joe's Cafe" – The Robins (Coasters)
"Spanish Harlem" Ben E. King (Jerry Leiber and Phil Spector)
Songs by Nickolas Ashford (May 4, 1941 – August 22, 2011) & Valerie Simpson:
"Ain't No Mountain High Enough" Marvin Gaye & Tammi Terrell
"Solid" Ashford & Simpson – Solid
2011 graphic from Tennessee State Parks.