2011-06-08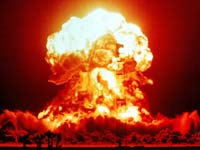 Hearing Voices from NPR®
117 War Torn: Weapons-grade Radio
Host: Barrett Golding of Hearing Voices
Airs week of: 2011-06-08
"War Torn" (52:00 mp3):

A weapons-grade hour of wartime radio. The people who start the fight, and the people who pay the price:
From the British prime minister's speech to the House of Commons, June 4 1940, preceding the Battle of Britain:
We shall fight in France, we shall fight on the seas and oceans, we shall fight with growing confidence and growing strength in the air, we shall defend our island, whatever the cost may be, we shall fight on the beaches, we shall fight on the landing grounds, we shall fight in the fields and in the streets, we shall fight in the hills; we shall never surrender.
From the benefit CD Path To Zero – A Prayer Cycle
I(video below). Proceeds go to Global Zero, an international organization dedicated to nuclear disarmament. Some voices on the album: Sting (on "Atomic Mother"), Robert Downey Jr., Sinead O'Connor, Jonathan Davis of Korn, Jon Anderson of Yes, Angelique Kidjo, and Pakistan's Rahat Fateh Ali Khan; along with archival tape, including a previously unreleased recording of Jim Morrison, performing a poem on the plight of Native Americans in Los Alamos, New Mexico. (Face: Prayer Cycle | Space: Jonathan Elias.), and J. Robert Oppenheimer, "I am become death, the destroyer of worlds."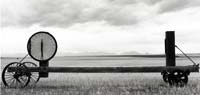 The recollections of Hiroshima survivor Kaz Suyeishi, rendered by two young Japanese woman, Kazuka and Kiyo. Alvin Huntsman performed the improvisational music by banging, scraping, and bowing several large sculptures by Gary Bates, including the "Wind Wagon," a 35-foot multi-stringed banjo-like structure.
From The Poetry Of Carl Sandburg, an out-of-print Caedmon Audio collection. Background sounds: Mazen Kerbaj "Starry Night" (info below).