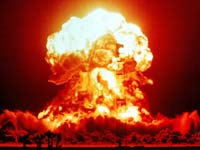 Hearing Voices from NPR®
117 War Torn: Weapons-grade Radio
Host: Barrett Golding of Hearing Voices
Airs week of: 2011-06-08
"War Torn" (52:00 mp3):

A weapons-grade hour of wartime radio. The people who start the fight, and the people who pay the price:
From the British prime minister's speech to the House of Commons, June 4 1940, preceding the Battle of Britain:
We shall fight in France, we shall fight on the seas and oceans, we shall fight with growing confidence and growing strength in the air, we shall defend our island, whatever the cost may be, we shall fight on the beaches, we shall fight on the landing grounds, we shall fight in the fields and in the streets, we shall fight in the hills; we shall never surrender.
From the benefit CD Path To Zero – A Prayer Cycle
I(video below). Proceeds go to Global Zero, an international organization dedicated to nuclear disarmament. Some voices on the album: Sting (on "Atomic Mother"), Robert Downey Jr., Sinead O'Connor, Jonathan Davis of Korn, Jon Anderson of Yes, Angelique Kidjo, and Pakistan's Rahat Fateh Ali Khan; along with archival tape, including a previously unreleased recording of Jim Morrison, performing a poem on the plight of Native Americans in Los Alamos, New Mexico. (Face: Prayer Cycle | Space: Jonathan Elias.), and J. Robert Oppenheimer, "I am become death, the destroyer of worlds."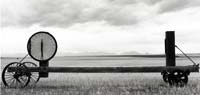 The recollections of Hiroshima survivor Kaz Suyeishi, rendered by two young Japanese woman, Kazuka and Kiyo. Alvin Huntsman performed the improvisational music by banging, scraping, and bowing several large sculptures by Gary Bates, including the "Wind Wagon," a 35-foot multi-stringed banjo-like structure.
From The Poetry Of Carl Sandburg, an out-of-print Caedmon Audio collection. Background sounds: Mazen Kerbaj "Starry Night" (info below).
"The Lights Are Dim" (2004 / 1:39 excerpt) Ed Flynn
Musically mixed messages from the press conferences of Donald Rumsfeld, Secretary of Defense (1975 to 1977 & 2001-2006). From Flynn's album Put On Your War Hat. Found at WFMU's Beware of the Blog (also). Here's the full vers (3:50 mp3):

"LBJ & McNamara Debate Sending Troops to Vietnam" (1963 / 3:12)
LBJ & Mac
A phone conversation between President Lyndon Baines Johnson and Secretary of Defense Robert MacNamara. Presented in the American RadioWorks program "The President Calling." ARW offers free mp3s at iTunes U of the White House Tapes: LBJ.
"Oil, Arms, & Drugs" (0:19)
Ulali
A quick a-capella from the CD Honor
– A Benefit for the Honor the Earth Campaign.
A Prez GWB mix-up by an Oslo, Norway musician (more info below).
The Battle of Qala-i-Jangi (11/25-12/1/2001), in Northern Afghanistan, began with an uprising of foreign Taliban captives at the Qala-i-Jangi fortress. It took a week for Northern Alliance fighters, with British and American Special Forces, to stop the revolt. Of the original 400-500 prisoners, only 86 prisoners survived — including two U.S. citizens, the "American Taliban" John Walker Lindh (now imprisoned), and Yaser Esam Hamdi.
A few days later, producer Scott Carrier documented the events, talking with reporters in Afghanistan, and one of the surviving i, Ali Abdul Matar, an Iraqi. Postscript: In Hamdi v. Rumsfeld, 2004, the U.S. Supreme Court told the U.S. Justice Department they cannot hold Hamdi indefinitely without a trial. He was released to Saudi Arabia, on the condition he give up his U.S. citizenship.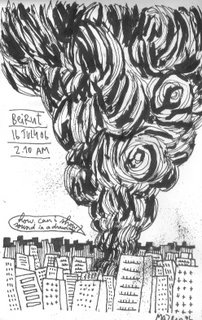 A duet, of sorts, from July 2006: Lebanese artist and trumpeter, Mazen Kerbaj, recorded himself sitting on his Beirut balcony,while live improvising with the Israeli Air Force, who provided percussion as they bombed his city. Sound found at WFMU "Trumpet vs. Bomb," who posted a longer version (6:32 mp3):

"Finally" (1:43)
An Obama on Osama rap, based on Barack Obama's May 1 2011 speech announcing the demise of Osama Bin Laden. Music, editing & video by Vidar Brennodden: space | tube | cloud.

More about Prayer Cycle – Path to Zero:

(Top photo: The XX-34 BADGER nuclear test explosion, April 18, 1953, part of Operation Upshot-Knothole, at the Department of Energy Nevada Site.. Found at Wikipedia.)