2010-11-11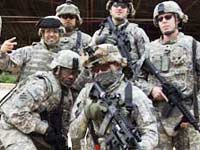 Hearing Voices from NPR®
104 Vet Vox: Voices of Veterans
Host: Barrett Golding of Hearing Voices
Airs week of: 2010-11-10
"Vet Vox" (52:00 mp3):

For Veterans Day, Vietnam, Korean, and World War Two vets, recorded by StoryCorps, along with a Marine Sergeant's recent "Don't Ask Don't Tell" discharge. And we plug into the iPods of active-duty troops in Iraq (photo gallery), asking them what they're listening to, and what their lives are like:
Soldier Soundtrack, Iraq- Song: "Indestructible" by Disturbed from Indestructible. "You got to show people that soldiers aren't just war fighters, they're peace keepers too…"
Bob Harlee served as an Army Chaplain for 18 years. In 1965, Harllee was sent to Vietnam, and he had to leave his wife and three children behind. One of those children, Carol, now 47, recently asked her father about his life in those days. As part of the 101st Airborne out of Fort Campbell, Ky., Harllee had to reconcile his role as a spiritual guide within a unit whose job it was to destroy the enemy. Still, Harllee says, his task was clear: "to encourage everybody to keep their faith strong, even though they're in the midst of the most terrible thing that mankind can bring upon itself." Bob Harllee died in Charlottesville, Va., several months after his interview session. He was 73.
Soldier Soundtrack, Iraq- Song: "Send in the Clowns" by Barbara Streisand from The Broadway Album. "They're not really geared towards a democratic or republic sort of society… the biggest issue will be trying to keep Iran or Syria from moving into the power vacuum when we leave…"
From. their series of of Jack Poet Volkswagon ads