2010-03-24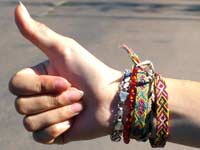 Hearing Voices from NPR®
087 Thumb and Thumber: The Joy of Hitchhiking
Host: Larry Massett of Hearing Voices
Airs week of: 2011-04-06 (Originally: 2010-03-24)
"Thumb and Thumber" (52:00 mp3):

Is hitchhiking the great American adventure sport or just a risky last resort for folks who can't come up with bus fare?:
Hitchhiking was once common, These days it's aquired an aura of danger and desperation. Who wants to take the risk — especially after all those gruesome stories about rapists and serial killers? But occasionally you can still spot some guy stranded on the side of a road, sign out, thumb up, hoping that your car will be his salvation. Is he dangerous? Insane? Or just plain dirty? Maybe we should stop and find out. (PRX)
The Brit duo (Nick Franglen and Fred Deakin) from their album '64-'95, with the voice of William Shatner.
Hitchhiking cross-country with a telegram for the Dalai Llama, a prayer for compassion from the cops, and half your net worth invested in a pair of high-top sneakers.