2012-06-25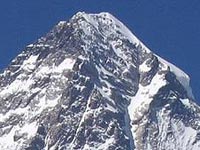 Hearing Voices from NPR®
137 In the Mountains: Towards the Summit
Host: Barrett Golding of Hearing Voices
Airs week of: 2012-06-20
"In the Mountains" (52:00 mp3):

Heading towards the summit:
Field recordings in the Annapurna region of Nepal near Tibet, including a ceremony for the Buddha's birthday, a few donkey trains passing in a cacophony of melodious bells; and a five-foot prayer wheel in a Buddhist gompa in Marpha.
From NPR Radio Expeditions, hidden deep in the woods of the Payette National Forest are the terraced remnants of the "Ah Toy Garden" (near the town of Warren, Idaho), now on the National Register of Historic Places. Produced by Carolyn Jensen Chadwick with sound desgin by Michael Scweppe.
When most people are headed to the beach, our producer heads for the ski slopes near his home in Utah. The goal is to find a combination of freezing and thawing in the late spring that gives the mountain snow pack the singular spring skiing experience(on PRX | on NPR).
Attempting to climb the world's most deadly and second highest demands extreme gear, training, timing, preparation, and a carefully selected team. Joe Frank eschews every bit of that: why make so easy? Excepted from Joe's hour, Mountain Rain, available on CD and as an MP3. Music: "Buried At Sea" MC 900 Ft Jesus, One Step Ahead of the Spider.
K2 photo courtesy: Kevin Mayea