Bowden, Charles/Archives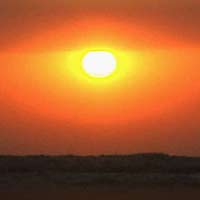 Hearing Voices from NPR®
025 Heat: Lazy-Hazy-Crazy Days of Summer
Host: Scott Carrier of Hearing Voices
Airs week of: 2012-07-11 (Originally: 2008-08-20)
"Heat" (52:00 mp3):
Five symptoms of heat fatigue:
A sound-poem for "Dead of Summer" in the city by Marjorie Van Halteren and Lou Giansante, read by Russell Horton.
Tuscon residents reflect the desert "Heat," with author Charles Bowden, poet Ofelia Zepeda, and music by Steve Roach; produced by Jeff Rice.
The perfection of family, a crippled man on a blind man's back, and a collective scream of "I'm not dead," sweat it out in Joe Frank's "Summer Notes."
Cats pulling pianos are "The Little Heroes" in John Rieger's Dance on Warning series.
And host Scott Carrier takes a long hot cross-country drive down "Highway 50," the loneliest road in America.
Music by The Lovin' Spoonful and Flying Lizards.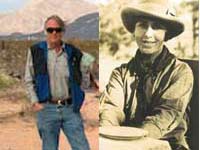 Hearing Voices from NPR®
069 Pen to Paper: Charles Bowden & Isak Dinesen
Host: Scott Carrier of Hearing Voices
Airs week of: 2010-09-08 (Originally: 2009-08-26)
"Pen to Paper" (52:00 mp3):
Audio essays on authors:
Writer Charles Bowden reports from the US-Mexico border about the drug wars, the poverty, and the environment. His writing is harsh but unflinchingly accurate. Host Scott Carrier portrays Bowden in the words of the people he has written about.
NPR host Susan Stamberg revisits the world of Karen Blixen, aka, Isak Dinesen, when she lived in Kenya and wrote Out of Africa (produced for NPR by Larry Massett; mixed by Barrett Golding.)
Poet and wordshaker Alex Caldiero (The Sonosopher) ponders the writing and sounding of "That One" word, with music by Theta Naught.
Scott Carrier (Communication) and Alex Caldiero (Humanities/Philosophy) are professors at Utah Valley University in Orem. Go Wolverines!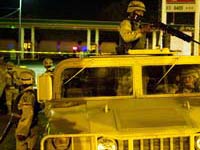 Hearing Voices from NPR®
048 Juárez, Mexico: City on the Border
Host: Scott Carrier of Hearing Voices
Airs week of: 2010-04-28 (Originally: 2009-01-28)
"Juarez, Mexico" (52:00 mp3):
We go to a war zone, just to our south:
Four years of reports on life in the Mexican border-town of Ciudad Juárez, with poverty and corruption, with daily drug-cartel murders and military violence. Told by photographer/Juarez resident Julián Cardona, author Charles Bowden, and host Scott Carrier.

A Charles Bowden essay, with etched artwork by Alice Leora Briggs: "Juárez: Killing Is Fun."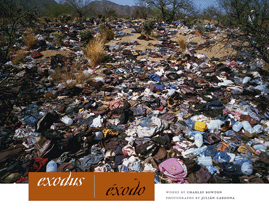 Exodus/Éxodo is a new book (Amazon) with words by Charles Bowden and photographs by Julián Cardona . Excerpt:
Consider this: you get up at 5 a.m. You live in a one-room shack and pay $59 a month in rent. Your address is on the outskirts of the world's second largest megalopolis, México City. You share this shack with your woman, a niece and your child. At 5:30 a.m. you're on the bus, a ninety-minute ride for $2.45 a day roundtrip. You work in a tortilla shop for $1.64 an hour, eleven hours a day, six days a week. A gallon of milk at the store, the electricity that lights your shack, the fuel running the bus, all these things cost more than in the United States. Basically, everything costs more than in the United States — except labor.

…

Mexican civilization existed before the American people were even a thought. Americans have come to the game very recently, and like so many new arrivals believe they possess all the answers. At the moment, human beings are moving all over the planet to save their hides. Things have been upended, the moon rises at a strange hour, it is blood red, and dripping with hunger.
[Scott Carrier is working on an HV Hour about the murders in Juárez, Mexico, starting with his NPR series, then moving onto the current much, much worse situation. The following are some emails from Scott…]
Yesterday Armando Rodriguez, the journalist who'd written most of the stories (901) on this year's executions in Juárez Mexico, was himself executed:
Juarez journalist slain

El Pasa Times staff report 11/13/2008

A Juarez journalist known for his work as a crime reporter for El Diario de Juarez was gunned down Thursday morning in front of his home, the newsapaper's Web site reported.

Armando Rodriguez was preparing to take his daughter to school in Juarez when a gunman approached his car and fired several shots at point-blank range, according to accounts provided by the newspaper. Rodriguez reportedly died at the scene.

The assailant then fled to a waiting car carrying other men and sped off in an unknown direction.

Rodriguez was the police beat reporter for El Diario de Juarez and had become an expert on the brutal drug cartel violence that has gripped Juarez for the last several years.

"He was a good person and a good reporter," said KINT-TV (Univision Ch. 26) reporter Pedro Villagrana, who has worked closely with Rodriguez for more than a decade.

Word of Rodriguez' slaying quickly spread throughout the Juarez and El Paso journalism community. Some members of the Juarez media including his colleagues at El Diario de Juarez gathered at the crime scene to mourn his death, according to the newspaper Web site.
Juárez has always been a violent place. No rule of law. People get killed and nobody is arrested, not even an investigation. What's new now is the rate of murders. There are more than 100 executions each month in Juárez, 1300 this year alone. Last year there were about 300.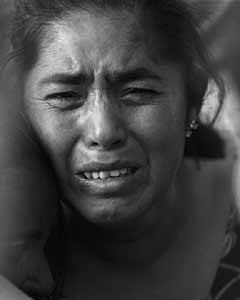 Paula Flores attends the burial of her daughter Sagrario Gonzalez,
a maquiladora worker abducted and killed in April 1998.
(Photo © Julián Cardona)
"Mexico's Red Days" by Charles Bowden in GQ on the escalating Juárez, Mexico murders:
The killings have the cold feeling of butchery in a slaughterhouse, and they are everywhere: done in broad daylight, on streets, in markets, at homes, and even in Wal-Mart parking lots. Women, children, guilty, innocent—no one is safe.

These are red, endless days.
Author Charles Bowden on the border, © 2008 Julián Cardona: