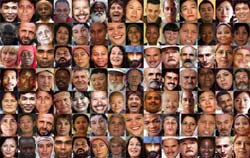 6 milliards dAutres, 6 billion Others, 6 miliardi di Altri– a global vox-pop project by Yann Arthus-Bertrand:
In 2008 you will be able to listen to the thousands of testimonies which have been collected, and add your own testimony to the site. In the meantime, take a look at the project, the team, and some interviews that have already been made.
Sent by Kerry Seed via Lu Olkowski.