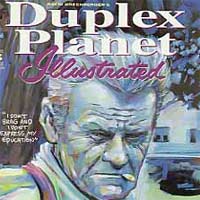 Hearing Voices from NPR®:
008 About Aging—
I Thought You'd Never Ask
Host— David Greenberger of Duplex Planet
Airdates— 2009-04-22 (Originally: 2008-04-23)
"About Aging" (53:00 mp3):
Host David Greenberger of Duplex Planet presents glorious moments and observations from people in the last years of their lives:
Dave Alvin discusses the song he wrote about his dying father, "Man in the Bed," from the Western Folklife Center's What's in a Song? series.
Comedians Bob & Ray are "The Whirleys".
From StoryCorps comes a remembrance from Richard Craig of his days as a dance host on cruise ships.
In Sound Portraits "The Ground We Live On" journalist Adrian Nicole LeBlanc faces mortality in recordings she made during her father's last months alive.
And host David Greenberger shares some stories told him over the years by the elderly, including "Growing Old in East LA".