Hearing Voices from NPR®:
032 Soapbox— Sampling 20th Century Political Speech
Host— Sarah Vowell of This American Life
Airdates— 10/8/2008 – 10/15/2008
Soapbox (53:00 mp3):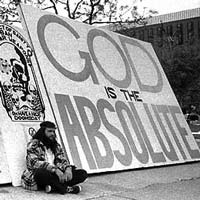 We hang with the mostly homeless protesters, and Scott Carrier, in "Lafayette Square" across from the White House.
"Memory Waltz" is from composer Oliver Nelson's LP: The Kennedy Dream; A Musical Tribute to John Fitzgerald Kennedy., with musicians Phil Woods, Hank Jones, George Duvivier and Grady Tate.
Bonus audio: The Kennedy Dream "A Genuine Peace" (2:35 mp3):

We hear excerpts from All the Presidents' Inaugurations:
• Calvin Coolidge— Inaugural Address, Wednesday, March 4, 1925
• Franklin D. Roosevelt— First Inaugural Address, Saturday, March 4, 1933
• Harry S. Truman— Inaugural Address, Thursday, January 20, 1949
• Dwight D. Eisenhower— First Inaugural Address, Tuesday, January 20, 1953
• John F. Kennedy— Inaugural Address, Friday, January 20, 1961
And from John McCain and Barack Obama's September 26 2008 Presidential Debate, Oxford MS.
Writer Dave Eggers helps his brother Bill run for State Representative as a Republican — blood proves thicker than politics, from This American Life.
Slam poet Taylor Mali tells us "How to Write a Political Poem" (CD: Conviction).
Host Sarah Vowell digs "The Garden for Disappointed Politicians," from The Future Dictionary of America. Music by Jeff Arntsen of Racket Ship.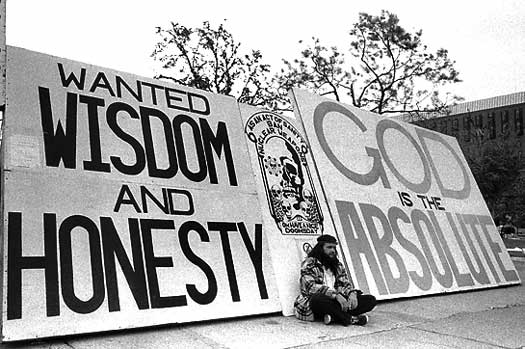 Thomas in Lafayette Square; © 1983 Scott Carrier
Audio artist Jesse Boggs choreographs a bipartisan "WMD Waltz."
And more Presidents' Inaugurations
• Lyndon B. Johnson— Inaugural Address, Wednesday, January 20, 1965
• Richard M. Nixon— Second Inaugural Address, Saturday, January 20, 1973
• Gerald Ford Remarks— On Taking the Oath of Office, Friday Aug. 9, 1974
• Jimmy Carter— Inaugural Address, Thursday, January 20, 1977
• Ronald Reagan— Second Inaugural Address, Monday, January 21, 1985
• George H. W. Bush— Inaugural Address, Friday, January 20, 1989
• Bill Clinton First— Inaugural Address, Thursday, January 20, 1993
• George W. Bush— Inaugural Address, Saturday, January 20, 2001
Audio by Jesse Boggs; video by Trent Harris, "Bushisms" (the cryptomusicology of Presidential patter):