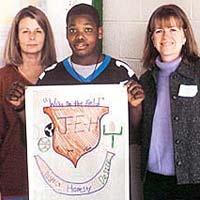 Photo by Katie Davis:
Jesse Jean with Teri and Toni.

Hearing Voices from NPR®
060 Getting Out: The Education of Jesse Jean
Host: Katie Davis of Neighborhood Stories
Airs week of: 2010-05-05 (Originally: 2009-06-03)
Getting Out: The Education of Jesse Jean (52:00 mp3):

Go to school, keep your grades up, go to college. That's what we tell kids — over and over. What if just leaving your apartment, and walking up the block is risky? What if it feels safer to stay home, play video games, keep a low profile. When you do go out, head somewhere safe, like the teen center, the basketball court. That was the world of African American teenager, Jesse Jean.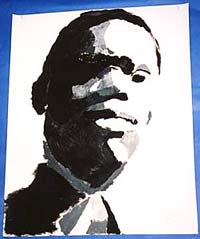 Jesse's self-portrait
Fall 2001.)
Jesse lived a half a block from host Katie Davis in their Washington DC neighborhood. He was lucky enough to get a scholarship to a private boarding school and brave enough to take it. Katie kept in touch with Jesse, as he moved into this new world. We hear three stories covering seven years, starting in summer, 2001.
Jesse's Stories on NPR: 2002 Turning the Corner (photos) | 2004 Beyond Myself (photos) | 2008 An Urban Teen Beats The Odds.