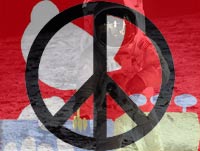 Hearing Voices from NPR®
070 Shortcuts Thru 1969: From the Moon to Woodstock
Host: Peter Bochan of WBAI-FM
Airs week of: 2009-09-09
"Shortcuts Thru 1969 " (52:00 mp3):

1969, the year in an hour, another in the Shortcuts series by Peter Bochan of All Mixed Up:
From Woodstock to Altamont, Washington to Vietnam, Chappaquidick to Chicago with stops at Stonewall, Hyde Park, Shea Stadium, The Super Bowl, Memphis, Times Square, Sesame Street, and the Moon. Featuring commentary from John Lennon & Yoko Ono, Iggy Pop, the Smothers Brothers, Richard Pryor, Mick Jagger, Keith Richards, Brian Jones, Roman Polanski, Richard Nixon, JFK, Buzz Aldrin, Neil Armstrong, Walter Cronkite, Ted Kennedy, Burgess Meredith, Donald Sutherland, Elliot Gould, Dennis Hopper, Jack Nicholson, Peter Fonda, Dustin Hoffman, Michael Lang, "Topaz Caucasion", Chip Monck, Dave Marsh, Joe Boyd, Rob Kirkpatrick, Carl Capotorto, Arlo Guthrie, Hugh Romney, Harry Reasoner, Nile Rogers, various FBI and police agents, The Black Panthers, The Weather Underground, The Zodiac Killer, Apollo 11 astronauts and many others.
Music from Hair, Midnight Cowboy, Sly and the Family Stone, The 5th Dimension, Elvis Presley, The Rolling Stones, James Brown, David Bowie, The Who, Les McCann & Eddie Harris, The Beatles, Bob Dylan, Blind Faith, Roy Budd, The Plastic Ono Band, The Jefferson Airplane, Arlo Guthrie, Canned Heat, The Beach Boys, Crosby, Stills, Nash & Young, Joni Mitchell, Beautiful People, Jimi Hendrix, Procol Harum, Henry Mancini and The Stooges!
Voices and musics in order:
[Opening collage: voices from 1969]
The Stooges "1969" The Stooges
Yoko Ono and John Lennon
Nino Rota/Henry Mancini "What Is a Youth" Romeo and Juliet
Roman Polanski, filmmaker
Mick Jagger, musician
Woodstock: stage announcements
Blind Faith "Can't Find My Way Home" Blind Faith
Senator Edward Kennedy
The Who "Tommy, Can you Hear Me" Tommy
"Sesame Street" TV show music
Elvis "Suspicious Minds" From Elvis in Memphis
Stonewall NYC: voices
David Isay report: "Remembering Stonewall"
John Barry "Midnight Cowboy" Midnight Cowboy
Mike Nichols, director
Apollo 11 transmissions
President John F Kennedy
The 5th Dimension "Aquarius" The Age of Aquarius
President Richard M Nixon
The Who "Overture" Tommy
Astronaut Buzz Aldrin
President John F Kennedy
Alice and Ralph Cramden "The Honeymooners" TV show
CBS News: Apollo 11 coverage
Walter Cronkite
Hair (The Original Broadcast Cast) "Walking in Space"
Burgess Meredith
David Bowie "Space Oddity" Space Oddity
Harry Reasoner, news reporter
Sly & Family Stone "Don't Call Me Nigger, Whitey" Stand!
James Brown "There Was a Time" Sex Machine
Richard Pryor, comedian
James Brown "Say It Loud, I'm Black and I'm Proud" Say It Loud
Les McCann & Eddie Harris "Compared to What" Swiss Movement
President Richard M Nixon
John Lennon
Plastic Ono Band "Give Peace a Chance"
Canned Heat "Goin' Up The Country" Boogie with Canned Heat
Woodstock: radio ad
Joe Boyd, manager, Incredible String Band
Dave Marsh, music writer
Topaz Caucasion (aka, Karen Roston, aka, Peter Bochan's esposa)
Micheal Lang, Woodstock promoter
Joni Mitchell "Woodstock" Ladies of the Canyon
Woodstock (Bethel NY): town resident
Santana "Soul Sacrifice" Woodstock: Original Soundtrack
Arlo Guthrie "Coming into Los Angeles" Woodstock: Original Soundtrack
Jefferson Airplane "Won't You Try" The Woodstock Experience
Crosby, Stills & Nash "Almost Cut My Hair"
Jack Nicholson, Dennis Hopper, Peter Fonda "Easy Rider" (movie)
The Rolling Stones "Gimme Shelter" Let It Bleed
Beautiful People/Jimi Hendrix "If 60's Were 90's" If 60's Were 90's
Walter Cronkite
Rolling Stones: Altamont Speedway
The Beach Boys "Passing By" Friends
Curt Gowdy, sportscaster
President Richard M Nixon
The Beatles "The End" Abbey Road
Smothers Brothers
John Lennon