2012-05-30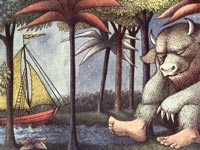 Hearing Voices from NPR®
136 Where Wild Things Are: Maurice Sendak Memorial
Host: Barrett Golding of Hearing Voices
Airs week of: 2012-05-30
"Where Wild Things Are" (52:00 mp3):

A memorial to recently departed cultural innovators: Beastie Boys bassist and rapper Adam Yauch — aka, "MCA," British hairdresser and business person Vidal Sassoon, pioneer FM rock n' roll disc jockey (WOR-FM, WNEW, WFUV, XM satellite radio) Pete Fornatale, and mostly we hear mostly we hear children's literature author/illustrator Maurice Sendak, along with all the music and movies inspired by his 1963 classic, "Where the Wild Things Are."
The Wild Mix (playlist below) was produced by Peter Bochan, General Manager of WPKN-Bridgeport CT, announcer WBAI-NYC NY, and mixmaster at All Mixed Up Productions. His Shortcuts and other mixes are at PRX.
We also hear music from the ballet, "Where the Wild Things Are," by composer Randall Woolf, created with Maurice Sendak and Septime Webre for the American Repertory Ballet.