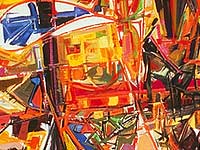 Hearing Voices from NPR®
105 Courage to Create I: Interviews with Artists
Host: Russ Germain of Canadian Broadcasting Corporation
Airs week of: 2010-12-08
"Courage to Create I" (52:00 mp3):

Interviews with artists on the origins of the creative impulse (part one of two):
A 1978 NPR/CBC radio classic, featuring interviews with artists on the origins of the creative impulse. This first of two hours includes:
Psychologist Rollo May (author of The Courage to Create
), classical guitarist Larry Snitzler, actor/director Jeanne Moreau, pianist Lorin Hollander, photographer Henri Cartier-Bresson, stained glass artist Rowan LeCompte, mezzo-soprano Frederica von Stade, painter Harold Town (CBC), novelist Marie-Claire Blais, flautist Jean-Pierre Rampal, folk guitarist Leo Kottke.
Produced by Carolyn Jensen Chadwick and Tom Steward; narrator: Russ Germain; technicians: Jim Anderson, Jan Stewart; executive producer: Digby Piers.
In HV's not-so-humble opinion, Carolyn Jensen Chadwick was NPR's best producer. She died August 2010; a few remembrances: All Things Considered | The Atlantic | Hearing Voices | LA Observed | Cornell Lab of Ornithology | Morning Edition.