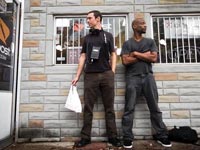 Hearing Voices from NPR®
138 Out of the Blocks: One City Block, Everybody's Story
Host: Aaron Henkin of WYPR-Baltimore
Airs week of: 2012-07-04
"Out of the Blocks" (52:00 mp3):

One hour of radio, one Baltimore city block, everybody's story:
What does a city block sound like? Aaron Henkin of WYPR-Baltimore and electronic/hip hop musician Wendel Patrick hit the sidewalk, spending several months documenting the stories, voices, and people who populate the 3300 block of Greenmount Avenue, in Baltimore. We go inside the hair salon, the tattoo parlor, and the check cashing business. We talk to a street preacher and homeless street people. This is a community of different nationalities, ethnicities, and religions; in other words: an All American block.
Both producers are Baltimore-based. Aaron Henkin produced the program for the WYPR series he works on, The Signal. This HV hour also features music from co-producer Wendel Patrick's 2011 album Forthcoming. His 2007 collection is called Sound:
.
"Ten G's Reprise," directed by Hilton Carter
Wendel Patrick: Face | Space | Alias: Kevin Gift
Street view of 33rd and Greenmount Ave, Baltimore, Maryland, USA:

View Larger Map