2009-10-14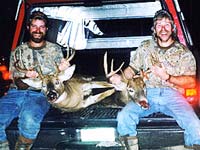 Hearing Voices from NPR®
072 Predator: Hunter and Hunted
Host: Larry Massett of Hearing Voices
Airs week of: 2011-09-14 (Originally: 2009-10-14)
"Predator" (52:00 mp3):

For the opening of hunting season:
A teenage babysitter convinces his younger siblings he's a werewolf… who's going to kill them, produced by Hillary Frank (author of I Can't Tell You) for This American Life.
Beatrice is a white toy poodle, a neighbor, and "the most evil entity, force, energy known to man. Death to humans is a mere plop of a pebble in the ocean that is the evil that you are Beatrice. Evil Beatrice the white poodle."
LA's The Natural History Museum commissioned original music compositions to accompany their 2006 exhibit Sonic Scenery: Music for Collections. Matmos' music used the vocal sounds of North American mammals.
One of America's oldest roadside attractions is the Linesville Spillway in northwest Pennsylvania. Tourists toss bread; carp amass at the spillway's edges: The fish are so thick that mallard ducks hop, skip and jump on the fish's backs to compete for a slice of bread. Original music by Tim Fite, part of LHP's song/story series.
More music from the LHP story.
Writer (Amazon), hunter, angler, outdoorsman, Norman Strung demonstrates the shrill sound and thrill found in calling for elk. (Miss ya, Norm: "Labradors [are] lousy watchdogs. They usually bark when there is a stranger about, but it is an expression of unmitigated joy at the chance to meet somebody new, not a warning." –Norman Strung)
Father Rupe LaRock and son Joe provide a hunter's perspective of the annual deer breeding cycle. "You can just smell the heat and smell the rut right in the air." Another of the Deer Stories , produced with Gregory Sharrow at the Vermont Folk Life Center.
Guns, guitars, guts, and wild game. Hunting wildlife and the wild life in the mountains of Payette National Forest. From the Chadwick's Conservation Sound series. Audio by Micheal Scweppe.