2011-12-13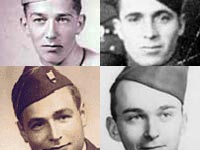 Hearing Voices from NPR®
128 Prisoners of War: Battle of the Bulge
Host: Erica Heilman of Vermont Folklife Center
Airs week of: 2011-12-14
"Prisoners of War" (52:00 mp3):

Four American soldiers share their WWII experiences, before, during, and after their time in a German POW camp:
Produced for the Vermont Folklife Center: In December 1944 the Allies were closing in on Germany. Hitler had a desperate plan to save the Third Reich, a massive assault he believed would so demoralize that the Allies, they would seek a separate peace, leaving only the Russian army on the eastern front. On December 16 the Germans unleashed an offensive that would become the most brutal battle of the European war: the Battle of the Bulge. Nineteen thousand Americans were killed, about the same number were taken prisoner. We hear from four Americans soldiers about their time in — before, during and after — a German POW camp: Cliff Austin, Harrison Burney, Bill Busier, and Robert Norton.
VFC Radio published a transcript and a CD of "Prisoners of War." Harrison Burney wrote "From The Bowels of Hell, a soldier's memoir of World War II, 1944-1945 (143k PDF). Music: "Reitba" and "Concerto No. 3 for Double-Bass and Piano," composed and performed by cellist Francois Rabbath; "String Quartet in C Major", the second movement in the "Emperor" by Franz Joseph Haydn, performed by the Concord String Quartet
; and "St James Infirmary" from pianist Allen Toussaint's The Bright Mississippi
.