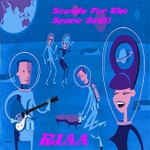 Mashups, I know, are sooooo 2006, but still they persist. Sounds For The Space-Set is a new collection from mashartists RIAA (22 free mp3s). Sun Ra meets Space Odditey mates with the Four Tops– and that's just in the first song. Try "Salvador Dali Teaches Rex Harrison How To Say 'Butterfly'" (Dick Hyman "The Moog and Me," Salvador Dali interview, Chicks on Speed "Wordy Rappinghood"):

"The Wonder Is All Around Us" (Vangelis "Alpha," Dr. Michael Shermer and James Randi interview: "Skepticality" podcast interview, Ken Nordine "Satellite"):

Found at WFMU's Blog.