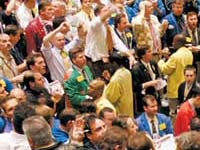 Hearing Voices from NPR®
030 Nine to Five: The Working Week
Host: Ann Heppermann and Kara Oehler of Mapping Main Street
Airs week of: 2009-09-02 (Originally: 2008-09-24)
"Nine to Five" (52:00 mp3):

For Labor Day, the work we do, from Wall Street traders to taxi cab drivers. People who work with brassieres, dead bodies, lost golf balls, and off-the-books in an underground economy. Part one…
The Ramones obviously believe "It's Not My Place (In the 9 to 5 World)" (1980 Pleasant Dreams).
Meryn Cadell fills out a "Job Application" (1992 Angel Food for Thought).
In the 1950s Tony Schwartz conversed with The New York Taxi Driver about "A Temporary Job." (This 1959 LP is on The Library of Congress National Recording Registry).
Steve Fisk recites some "Government Figures" (1980 Over and Thru the Night).
Grief and guts fill the work day of Aftermath,® Inc: Specialists in Crime Scene and Tragedy Cleanup, Trauma Cleanup, Accidental Death Cleanup. Interview with Tim Reifsteck by Laura Kwerel, produced by Nick van der Kolk; an excerpt from "Aftermath," a Love and Radio podcast. (L & R's slogan: "What Ira Glass might make if he showed up to work drunk.")
Cilla Black's boyfriend believes "Work is a Four Letter Word" (1968 The Best of Cilla Black).
Break music: Leroy Anderson "Plink, Plank, Plunk!" (1951 Leroy Anderson Favorites). Part two…
Retired school teacher Paul Neibuhr dons a full wet suit with air tank and transforms into a professional "Golfball Diver." Produced by Jeff Rice, with music by Leroy Anderson ("Plink, Plank, Plunk!" 1951; theme for the TV game Show I've Got a Secret for 24 years; CD: Leroy Anderson Favorites).
Ken Nordine wants to be "The Bullfighter" (2001 A Transparent Mask).
A Radio Diary from "Selma Koch, Bra Saleswoman." Sez Selma: "Nobody says the retail business was gonna be easy." Produced by Emily Botein and Joe Richman with help from Ben Shapiro and Deborah George (2002 New York Works).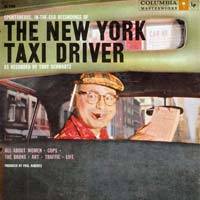 Tony Schwartz talks with The New York Taxi Driver about "Females" as fares.
"Open Outcry" is the trading technique heard on the floor of the New York Mercantile Exchange. This sound-portrait by composer Ben Rubin is a 2002 commissioned by Creative Time for Sonic Garden, World Financial Center, NYC. Features the voices of Madeline Boyd, J. Robert Collins, Jr., David Greenberg, John Hanneman, Vincent Viola, Elisa Zuritsky, and others.
John, the Medicine Man does the "Chicago Hustles." An excerpt from the documentary on the city's underground economy by our hosts Ann Heppermann and Kara Oehler for the 2005 series Chicago Matters: Money Talks.
Reinhardt "Buck" Buchli makes a "Fortunate Decision" (2005). A story told and production by David Greenberger of Duplex Planet. Music performed by Bangalore, composed by Phil Kaplan.
The New York Taxi Driver waxes work philosophies with Tony Schwartz in "…The Way It Has to Be."
Depeche Mode clocks out with Work Hard (1984 Singles Box 2).
And mixed in there is "Toner" by Cornelius (2006 Sensuous). A "collaboration with Takagi Masakatsu produced for Japan's Sound & Recording magazine… inspired by inkjet printers!"
Cornelius "Toner":