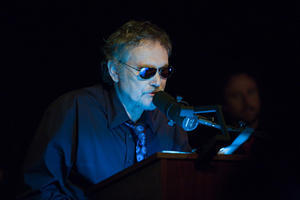 LA Weekly article on Joe Frank's one-man play "Just an Ordinary Man" (opens Oct 1 & 8 Largo's LA), along with a bio of Joe's career: "Off the Radio." Sez Joe:
"I particularly loved listening to baseball because the announcer wouldn't just say, 'He hit the ball to third base.' He'd talk about the history of baseball, the weather, the lives of the different players – it was like being with somebody I liked. So I started thinking about being on the radio myself."

"I'd take actors into a studio, tell them what a scene required and have them improvise, then I'd edit the best of what we'd produced into a show that also incorporated music and monologues of me speaking. It was unreal, yet real, and people didn't know what to make of it."
I caught his last stage performance, "The Blue Room." Was everything you'd expect from a Frank-en-story: LOL funny, absurd, disturbing. What more could you want from a night out?
"Just an Ordinary Man" is a new theatre piece with dancer Argentina's Carolina Cerisola, vocalist Julie Christensen, and musicians David Ralicke, Kenny Lyon, Mike Boito, Lorca Hart, Danny Frankel, Mark Harris and Mike Bolger.
via Kathy: Creative PR.