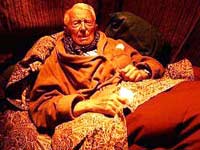 Hearing Voices from NPR®
107 Strange Days: Paul Bowles, Coyle & Sharp, Ayahuasca
Host: Larry Massett of Hearing Voices
Airs week of: 2010-12-29
"Strange Days" (52:00 mp3):

Way beyond the norm:
"Paul Bowles" (21:03)
Host Larry Massett has an audio essay on the life and literature of Paul Bowles (December 30, 1910 – November 18, 1999) on his 100th birthday.
Includes the ZBS 1967 conversation "A Time in Tangier," readings of The Sheltering Sky
by Paul Kiernan (IMDb | "A Slight Discomfort" for stage & HV radio), "The Hyena" (Collected Stories
) by Erica Heilman (VT Folklife Ctr | HV), and PB himself from his 1992 album Black Star at the Point of Darkness
.
Music: Versions of Down Among the Sheltering Palms
by Bing Crosby, Earl Hines, and The New Sensations. "La Mamounia," "Moussem Mediouna," "JimlNim," and "Moussem Regragas" from 2002 Moroccan Spirit
. "Larghetto" and "Largo" from Igor Stravinsky Symphony in C. Jilala: Sufi Trance Music From Morocco
recorded by Paul Bowles (Big Bridge #6). "Soundscape" by Jess Atkins. "Six Preludes For Piano" by Paul Bowles from Black Star at the Point of Darkness
.
Check our Paul Bowles' Birthday party page.
The original mock men-on-the-street, Coyle and Sharpe turn the everyday into the extremely strange. Excerpts from "Sandor 21," "Vocal Projection," "Daring but Dead," "Grevenz," abd "Wolverine Football" from the CD box-set These 2 Men Are Impostors
.
From their online samples, "The Druggist" (7:35 mp3):

The producer is enveloped in an Amazonian Ayahuasca expedition, a tale of ritual drugs and tourism.