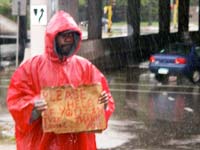 Hearing Voices from NPR®
116 Homeless: Living on the Streets
Host: Barrett Golding of Hearing Voices
Airs week of: 2012-09-19 (Originally: 2011-06-01)
"Homeless" (52:00 mp3):

The voices of people who were or are homeless:
Land of 10K Homeless is a Minneapolis music-audio documentary project by Voices of the Streets, "An Artistic Portrayal of Homelessness in Minnesota." Thier "website of artistic activism provides a space for the disadvantaged to share their stories." Producer Danny Burke created this mix of the main theme, blended with interviews with individuals staying at a family shelter in Minneapolis.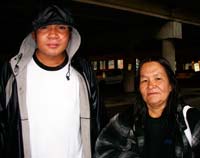 The string arrangement was written and produced by Brian J. Casey and Danny Burke of the Skeptics, and performed by the Arlington String Quartet (Matthew Knippel, cello; Conor O' Brien, violin; Gabriel Platica, violin).
After leaving the Marines, George Hill became addicted to drugs and alcohol. He soon found himself on the streets of Los Angeles, homeless for 12 years. But the kindness of another homeless man changed everything. Hill is now off the streets, working for the U.S. Department of Veterans Affairs, and pursuing a computer information systems degree at Cal State University. Recorded in Santa Monica, CA; part of StoryCorps' Griot Initiative.
A portrait of the self-named, Crazy John, who lives on the streets of Austin, Texas. He tells writer Carmen Delzell about his life. Carmen was homeless for a couple of years in the early 1990s. This piece was made after she got on her feet and was living in Austin. Produced by Jay Allison (PRX).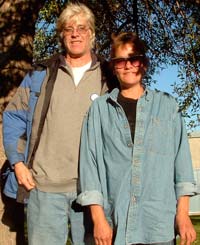 "Bill Speaks" (2008 / 2:24)
The Land of 10,000 Homeless
An interview with Bill, recorded near the Dorothy Day Center homeless shelter, St. Paul MN. Andrew Turpening, the Land of 10K Homeless Artistic Director, composed the music and produced the piece.
The producer spends a night at a church homeless shelter in Washington DC.
A profile of life on the streets for homeless youth told through the experiences of 21-year-old Miracle Draven, Portland OR. Original music by Craze MC. (Longer version at PRX).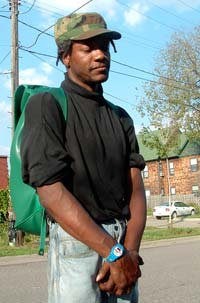 This mix of this original Andrew Turpening song features interviews with Rene and Tommy. Tommy was recorded at the intersection of Cedar Ave. and Highway 94, between the cities of Minneapolis and St. Paul; Rene was in a family shelter in Minneapolis.
Edwin Lanier has been sober for many years. But, as Lanier told his friend David Wright recently, he nearly drank himself to death — that's the prognosis a doctor gave him after his 28th treatment for alcoholism. Lanier and Wright met on an exit ramp where Lanier stood holding a sign that read, "Homeless. Anything will help. God bless." Wright handed Lanier a $2 bill and a can of tuna fish every time he passed. Wright and his wife eventually took Lanier in, giving him a shower, clean clothes, and a place to start over. Years later, Lanier and Wright remain good friends. But Edwin's still homeless — by choice. Recorded in Durham NC.
A collection of poetry, written and performed by homeless poets, and put to music. From the project's Sidewalk Prophets CD.
Smith is a writer and English instructor in New Orleans. Once homeless, he spent nights fishing at a city park pond where he met a woman who was deaf-mute — or so he thought. Music by Pascal Fricke.
Check Mr. Fricke's Dozens of Haunting Tom Waits Covers in Bangin' on the Table (free mp3s from Download This web series Cover Me. Here's "The Heart of Saturday Night (Tom Waits cover)" (6:14 mp3):

"Homeless Romanian Dwarf" (2005 / 2:10)
Alyssa Goodman & Larry Massett

Writer, anthropologist Alyssa Goodman describes a late-night encounter she witnessed on the streets of Bucharest in Romania. Music by Biosphere.
From the series Hidden Kitchens: So many immigrants, homeless people and others of limited means living in single-room occupancies have no kitchens, no legal or official place to cook. To get a hot meal, or eat traditional foods from the countries they've left behind, they have to sneak a kind of kitchen into their places. Crock pots, hot plates, microwaves and toaster ovens hidden under the bed. And now, the latest and safest appliance, the appliance that comes in so many colors it looks like a modern piece of furniture: the George Foreman Grill.
The story was suggested to the Sisters by Margaret Engel, managing editor of the Freedom Forum's Newseum in Arlington VA, and co-author (with her twin sister Alison) of Food Finds: America's Best Local Foods and the People Who Produce Them
. There's a mouth-watering book, Hidden Kitchens: Stories, Recipes and More from NPR's The Kitchen Sisters
and 3 CD-set, Hidden Kitchens: Stories and More from NPR's The Kitchen Sisters (Davia Nelson and Nikki Silva, with Jay Allison)
.
This version of the main theme and interviews from the Land of 10-K Homeless music/audio documentary appeared on the Give US Your Poor benefit CD
(video credits).