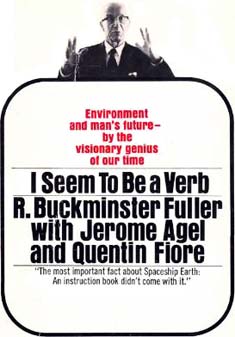 I admit I'm now a twit, but with a twist. Most tweets are rapid and vapid. I'm experimenting with another approach: slow and substantive. Every morn I enter another line from R. Buckminster Fuller's I Seem to Be a Verb
.
Running along the bottom of that book's pages is a continuing line of text. Those are my daily updates, in 140-character chucks. These Bucky bits aren't published anywhere (the book's outta-print), so why not twitter it: You can follow @hearvox or at the bottom of this post.
So far I like how it looks. It builds backwards, i.e., the beginning appears at the bottom on the list. But maybe this ain't a bad way to steadily deliver discrete parcels of philosophically  dense data.
I live on Earth at present, and I don't know what I am. I know that I am not a category. I am not a thing — a noun. I seem to be a verb, an evolutionary process — an integral function of the universe.
–R. Buckminster Fuller, I Seem to Be a Verb (1970)
New Yorker: "Dymaxion Man" | "Weird Science" (slides)
"Starting with the Universe:" Whitney (NYC) | MCA (Chicago)
Whole Earth: "God is a Verb" | "2025, If…" | "Thoughts"
Films: "Thinking Out Loud" | Everything I Know
Bucky Fuller: Institute | Wikiquotes | Dome | Challenge
Operating Manual for Spaceship Earth