2011-11-04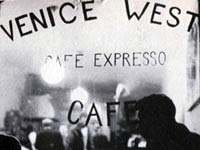 Hearing Voices from NPR®
125 City of Angels: An Ode to Old L.A.
Host: Barrett Golding of Hearing Voices
Airs week of: 2011-11-02
"City of Angels" (52:00 mp3):

We're occupying the streets of Los Angeles; our demands: bring us stories…
"Pilgrim Land" (2005 / 0:43 excerpt)
Tom Russell
"Old America" (3:32 excerpt)
"Bukowski #2 on the Hustle=" (2:08 excerpt)
"Honky Jazz" (4:14)
"Swap Meet Jesus" (4:21)
From the album Hotwalker: Charles Bukowski & A Ballad for Gone
. An Americana ode to old L.A., the music, the culture, from beat outsiders to religious revivals to long gone radio sounds; with stuntman, circus midget, and actor Little Jack Horton.
"Hotwalker is the best Sam Peckinpah movie since Peckinpah died. It's a ghostly jubilee, an audacious slab of Blue America. Narrated aby noir cowboy, Tom Russell, it is a singular recording, bound to be controversial — it's not only going to ruffle feathers, but leave feathers scattered on the ground."
—novelist-poet Luis Urrea
A couple web extras…
"Tom Russell's 'Hotwalker' Influences," an inteview by NPR's Alex Chadwick:

"WLS Radio Interview w/ Tom Russell" (10:21 mp3):

From Joe's "Streetwise" hour, and the CD collection Joe Frank Team Favorites: an interview with an anonymous homeless man on the streets of Los Angeles. Music: Thomas Newman "Rock Hammer" The Shawshank Redemption: Soundtrack
.