2011-10-22
124 Walk in the Park: National Parks, Neighborhood Parks
Host: Barrett Golding of Hearing Voices
Airs week of: 2011-10-19
"Walk in the Park" (52:00 mp3):

Yellowstone, Zion, the Everglades, and William Pierce Park in DC:
From the series Neighborhood Stories– Park Life, profiling the daily life of a community's urban oasis: "Country Bobby" Lowry is the guardian of Walter Pierce Community Park in Washington, D.C. He's been keeping an eye on the park for almost three decades, and knows more about how it than any city official — he knows the trees, the plants and the kids. In the first of four stories about the park, we meet this transplanted farm boy who never takes shortcuts in his work. See NPR's has great photo gallery.
Utah's Zion National Park draws 2.7 million visitors a year, and a major attraction for hearty hikers is a trek along the Grotto trailhead to Angel's Landing. From the banks of the Virgin River, the yellow-and-red sandstone sides of Zion Canyon rise 2,000 feet. It feels like being inside a huge body. The canyon walls are the rib cage spread open and Angel's Landing is like the heart.
Take an Angels Landing eHike. Photo gallery at NPR.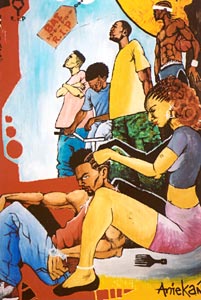 From Neighborhood Stories– Park Life: An ode to Leah at Walter Pierce Community Park, who braids hair by the basketball court while the guys play 5 on 5.
Music from Who Is Jill Scott? Words and Sounds, Vol. 1